Science Network WA
TEXT BY GEOFF VIVIAN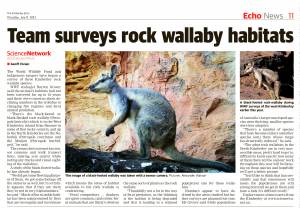 THE World Wildlife Fund and Indigenous rangers have commenced a survey of three Kimberley rock wallaby species.
World Wildlife Fund ecologist Darren Grover says the animals' habitats have not been surveyed for up to 10 years, and there are concerns about declining numbers in the wild.
Science Network [read this story]
This story was also republished in The Kimberley Echo on 11 July 2013.