2015
Rare Tasmanian-built RV attends Albany CMCA rally
From Time to Roam Issue 18
Early wine in Shire
From the Great Southern Weekender
Migrant woman remembered
From the Great Southern Weekender
Stories from inBali.org:
Bali's unique music, dance and ritual drama
You can't really say you have been to Bali if you have missed out on experiencing one of the ritual dance dramas. In Ubud they are accessible and very affordable. [read this story]
A guide to people's names in Bali
You can know a lot about someone you meet in Bali, just by learning their name. [read this story]
Studying art, music and dance in Bali
All sorts of arrangements are in place if you want to study art, music or dance in Bali- from a single hour-long casual session to a PhD. I interviewed four young people who are doing just that. [read this story]
Goa Gajah
A visit to an amazing archaeological site that is also a working temple. [Read this story]
2014
Tenganan: home of Bali's rarest textiles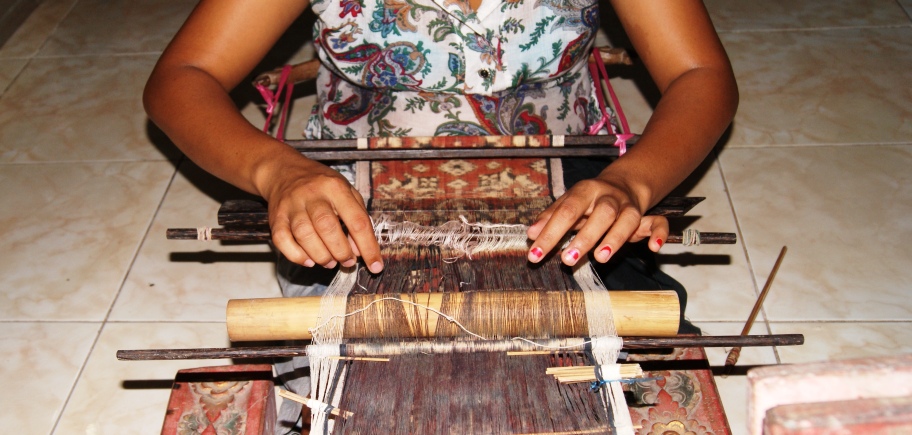 TEXT AND PICTURES BY GEOFF VIVIAN
Tenganan in southeast Bali is one of the villages that preserves a pre-Hindu "Bali Aga" culture that may be thousands of years old.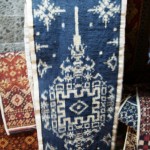 A feature of this is the double-ikat weaving, requiring warp and weft threads to be meticulously tie died before the weaver puts them together.
inBali.org [read this story]
SEALING the OUTBACK – could the Tanami really become a toll road?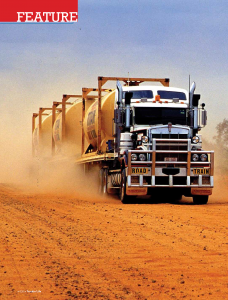 The Tanami Track stretches more than 1000 km from Halls Creek to Alice Springs. It could become WA's first toll road.
Click here to read.
2013
Women in Politics: Julie Bishop, Deputy Leader of the Federal Liberal Party
A profile of the Liberal Party's most senior woman politician.
She told me she was managing the Perth branch of an international law firm when an unexpected visit to Aung San Suu Kyi inspired her to enter politics.
Click here to read.
MP, cabinet minister … and singer.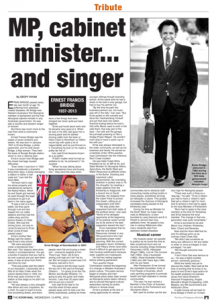 My tribute to the late Ernie Bridge with interviews from his family, on the occasion his death.
Click here to read.
2012
'FIFO' lifestyle has its ups and downs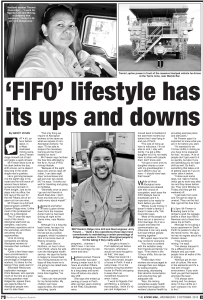 It is a quarter to five in a Pilbara mining camp. Jerry Frewen drags himself out of bed and grabs a quick shower. It is an hour before dawn. He likes to be at his desk before the day shift arrives, so he doesn't stay long in the small single-men's quarters. He is grinning because it is the eighth day in his roster and he will knock off several hours before sunset and be back in Perth tonight. Just as he steps into his office, the first rays of the sun hit the red Pilbara dirt of an open cut iron ore mine.
Click here to read more.
Perth's black cockatoo hospital
A large number of black cockatoos end up living at a special rehab centre in Perth's foothills.
As food becomes scarce they have taken to feeding from roadside bushes, then flying into the wind to get airborne.
Many are injured by flying into traffic.
Click here to read more.