2015
Albany is short of housing for its most vulnerable citizens, including the elderly. 
The state government demolished an old block of flats on this site about a decade ago.
I was intriged to know why it remained vacant.
2013
Women in Politics: Julie Bishop, Deputy Leader of the Federal Liberal Party
I asked Julie Bishop, deputy leader of the Federal Parliamentary Liberal Party, why she entered politics and whether she had any advice for women considering the same move.
Australian Women Online [read this story]
Premier enthusiastic about science in WA
Premier Colin Barnett is raising the profile of science in WA by appointing himself Minister for Science.
In his new role he says he wishes to foster a culture of science, and to attract more funding for scientific research in his state.
Science Network WA [read this story]
Archaeological sites 'easier to destroy' in WA
A consulting archaeologist and a KLC heavyweight say it is getting easier to destroy archaeological sites in Western  Australia.
Koori Mail [read this story]
Major news outlets were quick to congratulate Lewis Abdullah, 19, on receiving the Western Australian Young Person of the Year award last month. He was so honoured for his work with young offenders at Banksia Hill juvenile detention facility.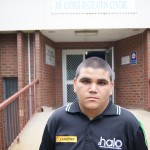 What they neglected to mention is that Lewis had not been able to hold his classes since January, when Banksia Hill was damaged in a riot and all of the boys got transferred to Hakea, an adult prison.
http://www.gwvivian.com/2013/05/14/inmates-missing-classes-2442013/
MP, cabinet minister … and singer
This is my obituary for Australia's first Aboriginal cabinet minister Ernie Bridge.
The Koori Mail [read this story]
2009
'Don't take away our booze' 4/2/2009
A move to restrict takeaway grog sales in an outback town met considerable community resistance.
I interviewed several working people who were Aboriginal.
They said they preferred to have a quiet drink at home, rather than be bothered by relatives asking them for money at a pub.
WAToday [read this story]
2008
I'll talk to the Premier – Barnett
The newly-elected premier said he intended to fix traffic congestion problems at two rail crossings in Cottesloe.
POST Newspapers [read this story]