Most of my rural reporting in this decade has been for Science Network WA, which sometimes allows me to cover agronomy and plant breeding research.
Earlier in 2015 I was lucky enough to score a job with Albany's Great Southern Weekender, where sometimes I get to do whole pages of rural stories like this one.
It is tempting to post a lot more but this selection should give a fair indication of my output.
2017
A big Perth egg producer copped a million-dollar penalty for selling bogus free-range eggs.
I turned this into a pleasant opportunity to let local free range egg farmers explain their practices to our readers.
2016
High soil moisture levels had farmers in the Great Southern excited about a bumper harvest last spring.
The reality turned out to be different for some, with destructive hail storms and catastrophic fires bringing down Western Australia's overall yeild.
From the Great Southern Weekender, January 14, 2016
Albany's chief fire control officer offers a different slant on catastrophic fires and how to avoid them.
http://www.gwvivian.com/2016/01/14/lessons-learned-from-fire-14012016/
2015
Fines for strays
A southern WA shire is seeking the power to prosecute property owners who let their cattle stray on to roads.
Vehicles collide with straying stock fairly frequently on Australian country roads, sometimes with fatal results.
If successfull, this would allow Kononup Shire to police straying stock on its own roads, but not those owned by the Main Roads Department.
The Great Southern Weekender Thursday, November 12, 2015.
Mineral supplements spice up sheep feeding options
Wheatbelt farmers have been experimenting with grazing sheep in their early-season wheat crops, to give pastures time to regenerate.
In higher rainfall areas the crop then recovers with no apparent loss of yeild, but in more arid districts the sheep tend to trample it near waterpoints.
UWA science graduate Benita Moir has been working on ways of enticing sheep to graze the paddock more evenly.
Science Network WA [read this story]
Early wine in shire
A KATANNING local says although Frankland and Plantagenet vignerons have been celebrating "50 years of wine", his family planted the Great Southern's first vineyard a century ago.
Derrick Nalli said his grandfather established Roma Vineyard on a 440 acre block he took up in 1911 at Broomehill.
Nalli and Sons became known for their Muscat, Sherry, Marsala, Port and Hamburgh wines, which they continued to produce until the early 1950s.
"My grandfather came from Italy around about 1904," Mr Nalli said.
"When Grandfather arrived in Fremantle with his one son they had seven and six in
their pocket which in the new money is 75c – so they had nothing."
Mr Nalli senior lived in a tent and worked for another Italian immigrant, Mr Genoni, on his farm for several years, returning to Italy to pick up most of his eight children.
From The Great Southern Weekender, October 15, 2015.
Booster plan for coverage
Mobile telephone reception remains patchy in many Australian towns and cities, despite nearby transmission towers. 
A Mt Barker, WA, man arranged to borrow a booster from the telco to see if it would improve his reception.
He has now arranged to make it available for others to use.
Climate projections show ways to improve crop yields
New computer modelling of drier agricultural districts in Australia's east and west shows likely effects of climate change over the next 75 years. 
Cunderdin, for example, seems likely to suffer a 26 per cent annual rainfall decline by 2090, resulting in 23.4 per cent less wheat production if current farming methods and varieties continue to be used.
Agronomist Mahuddin Anwar says this will be a stimulus to breed drought-tolerant and heat-resistant grain varieties, and adtopt better moisture-retention strategies to retain and improve weather forecasting to better plan cropping and planting.
Science Network WA [read this story]
2014
Sacrificing wheat stubble pays off with increased soil mosture.
Many grain growers are experimenting with leaving stubble in the ground to slowly rot down, rather than letting stock in to eat it straight away.
While this seems to help the soil retain more moisture, agronomist George Swella says he has now worked out how high the stubble should be left.
Science Network WA [read this story]
Double-spray method to combat wild radish
The wild radish, a troublesome pest in wheat crops, is developing resistance to many herbicides.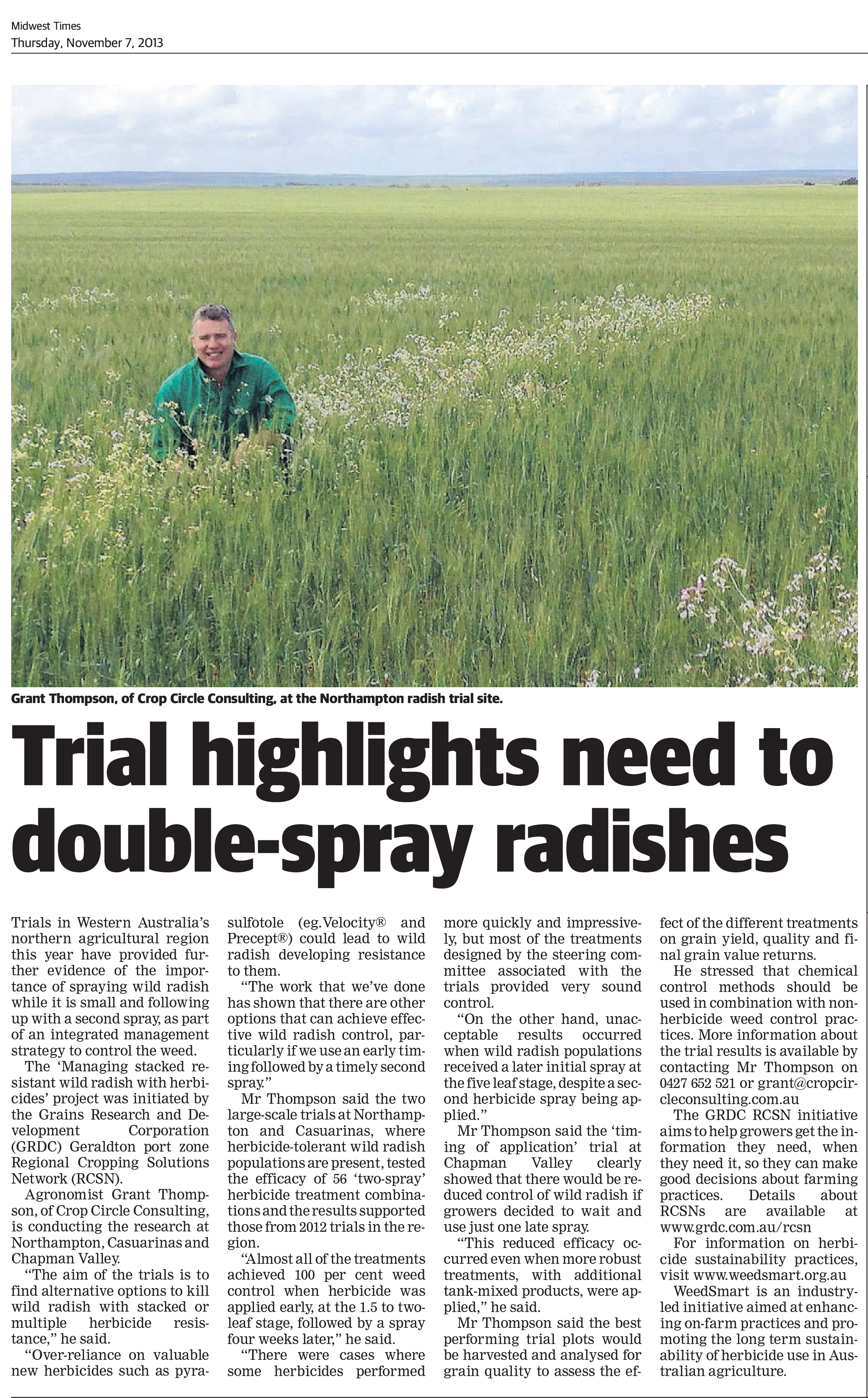 Agricultural scientist Grant Thompson's solution to the problem involves even more herbicides.
In a series of trials, he has found spaying one herbicide on the seedlings and another chemical on the plants a few weeks later keeps their seeds out of the crop.
This story first appeared in Science Network WA [click here to read].
A toll road for the outback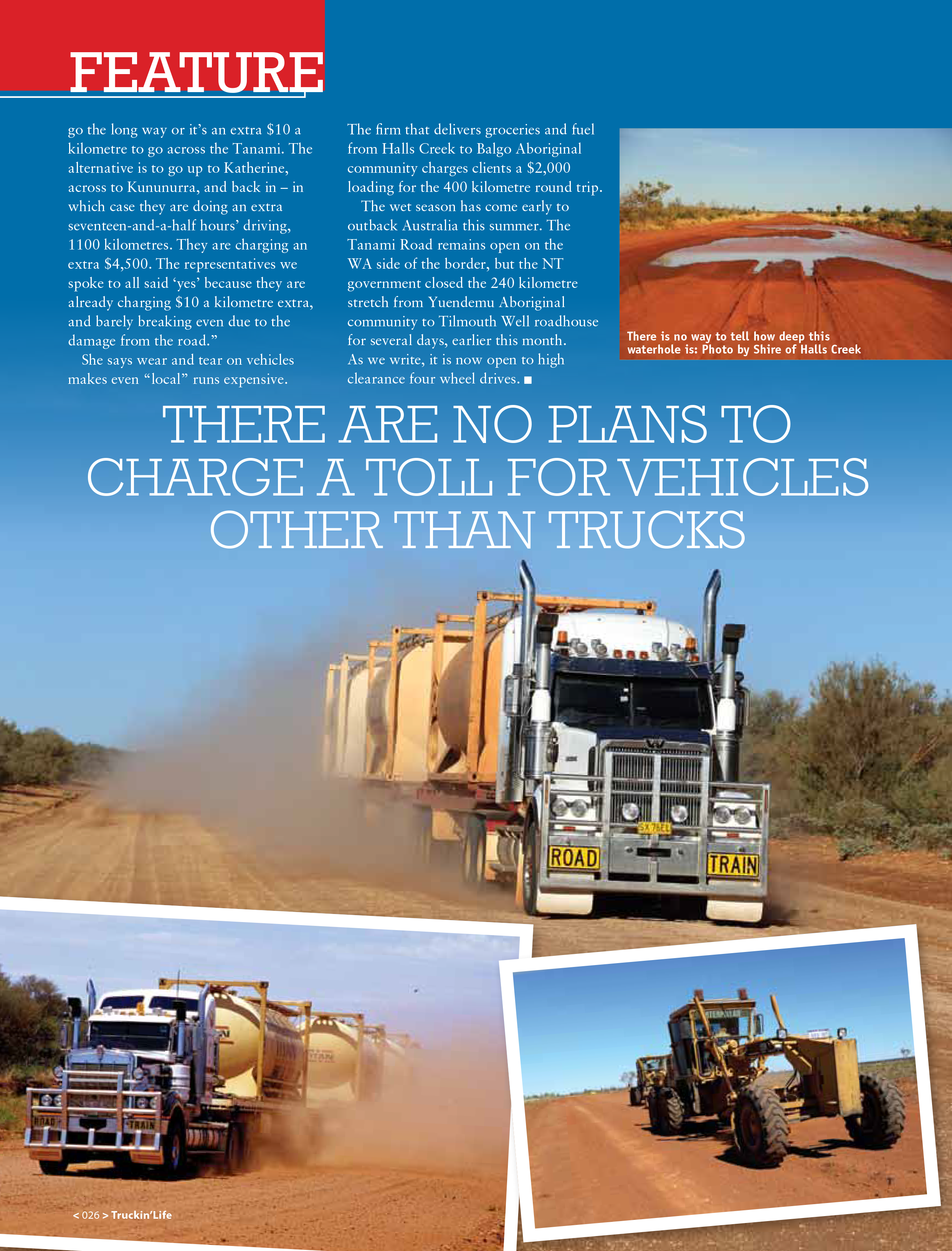 Don't laugh, but Halls Creek shire has a proposal to create WA's first toll road in the outback.
The Tanami Track, which spans more than 1,000 kilometres of desert, is not an all-weather road.
Sealing it would complete the most direct route from the Kimberley to south-eastern Australia.
Foreign plant viruses sneak in on imported garlic
A MURDOCH University scientist says numerous plant viruses have hitchhiked to Australia on imported garlic.
Dr Steve Wylie tested 10 local and imported garlic varieties, finding 41 plant virus isolates including the potexvirus Asparagus virus 3 (AV3).
This is the first time AV3 had been identified outside China and Japan.
"Although plant viruses do not directly threaten the health of consumers…extending their geographical and host ranges [can be a risk] to agricultural profitability, food security and maintaining wild ecosystems,"
Move to create better wheat varieties, faster
A veteran plant breeder is working to prove that wheat varieties with less chlorophyll produce better crops.
Chlorophyll, the green pigment plants make from sunlight, provides much of the plant's energy and also provides more shade.
Prof John Hamblin says Australian wheat plants produce more chlorophyll than needed, which also tends to shade out neighbouring plants.
He expects to have his research concluded in just three years, aided by a new technology that can produce up to eight generations of wheat per annum.
Sufficient food vital for functioning ram sperm
AN ANIMAL biologist says poor nutrition results in genetic damage to sperm cells and lower sperm motility for rams.
"In Australia the breeding season of the merino sheep always falls in the autumn," she says.
"During the autumn they don't have enough pasture for the sheep, so it's easy for the sheep to lose body weight and testes size."
"On the farm it's a real problem because the farmers cannot afford to provide enough food for all the sheep if there is no pasture."
Science Network WA [read this story]
2013
Exotic legume improves livestock feeding
An exotic legume may play a role in reducing methane emissions from flatulent sheep.The Garnault Report says this accounts for about half of the methane produced by Australia's grazing animals.Agricultural scientists are testing a Mediterranean plant called Biserrula with a view to tackling Australia's greenhouse gas problem.
GM considered to remedy field pea disease
A leading plant breeder says the pea would be the ideal crop for broadacre farming in Australia if black spot could be overcome.Prof Tanveer Khan looks at better varieties, delayed sowing, better varieties and genetic engineering.
Stakeholders worried about cattle exports
As the northern wet season draws to a close, Aboriginal station managers in the Kimberley are waiting to see if they can sell any cattle. Indonesia, the largest market, is yet to issue any import permits for Australian cattle this year.

2008Evicted from his homeAn acute housing shortage forced Halls Creek contractor Russell Tremlett to live in a caravan in his daughter's back yard, and park his two buses out on the verge.

Halls Creek Shire had fallen into the practice of renting houses out to services it wanted to attract to the town.

Unfortunately this meant it was unable to fill important vacancies of its own when there was nowhere for outside applicants to live.

The shire evicted Russell Tremlett, who ferries local workers to and from Argyle Diamond Mine, when it needed the house he was in for a new staff member.

From The Kimberley Echo